Buying a Massey Ferguson? – Take Your Pick
In 2021 Massey Ferguson introduced the new MF S range to the market. Massey Ferguson now have continued the range to include four new models MF 8S, 7S, 6S and 5S. The tractor range has received several awards for its design, efficiency and power. Massey Ferguson have really produced a Series range with a model that will suit everyone. All of the tractor models have its own unique traits for its suited enterprise.
Massey Ferguson 8S
The Massey Ferguson 8S one of the most unique tractors on todays market. Massey Ferguson asked their customers what should a perfect tractor have and a lot of these ideas were taken on board. Its efficient DYNA-7 powershift transmission, DYNA E-Power dual clutch transmission and its variable DYNA-VT offers the best fuel efficiency and comfort on the market.
Its new large cab is one of the quietest on the market with 360 degree visibility making it easier to work at all times. Cab and front axle suspension makes driving much more comfortable. With up to 5 working rear spool valves and 3 working spool valves at the front this tractor can get work faster and more efficiently. By purchasing an ISOBUS for the cab can save you money and time. This system improves farming practices and ensures you save costs. The MF8S is proving very popular with Irish contractors thanks to its ability to drive the ever demanding butterfly and front mowers for silage cutting.
Massey Ferguson 7S & 6S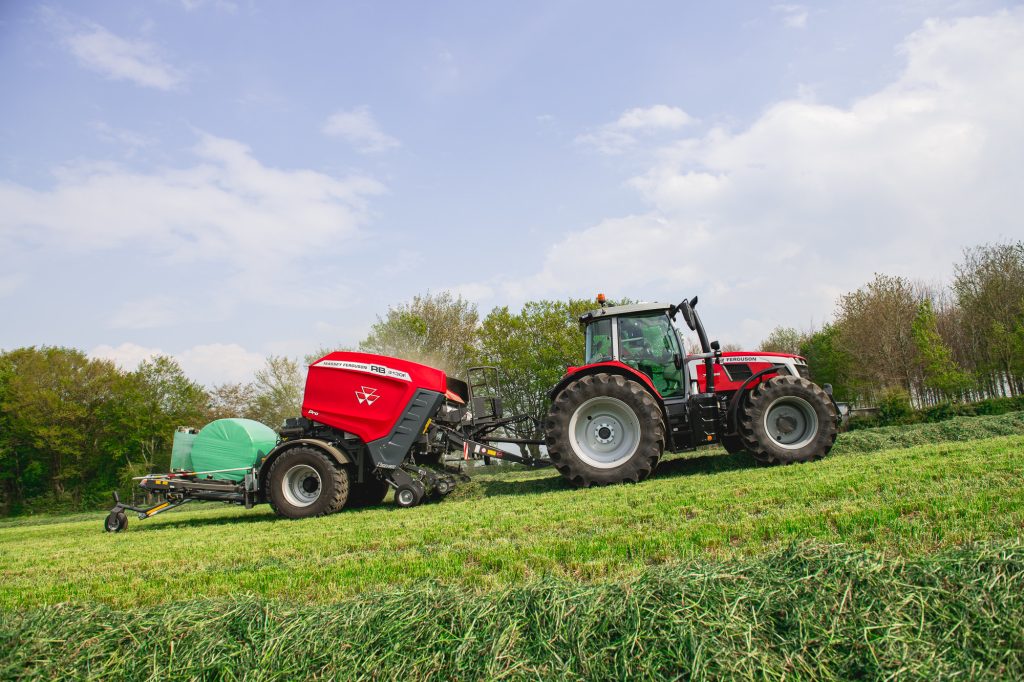 Two of the latest releases from Massey Ferguson, the 6S & 7S have been hugely popular since released this Spring. Both of these tractors are excellent loader partners thanks to its steeped nosed bonnet making it easier for the operator to see. The MF7S has a 6-cylinder engine with DYNA-6 or DYNA-VT transmissions while the MF6S has a 4-cylinder engine with DYNA-6 or DYNA-VT transmissions. These tractors can be specified with the format that suits your farm. Dyna-6 offers six clutchless shifts, in each of four ranges. Dyna-VT gives stepless shifting for the ultimate in convenience and control in all conditions.
Optimised airflow system has been added to these tractors improve engine cooling and enhancing engine performance. These are very versatile tractors that can complete the majority of jobs efficiently. MF tractor cabs are spacious and have exceptional visibility making work easier. Front axle and cab suspension ensures drivers are comfortable when travelling on the road or in fields. Its curved chassis and new bonnet smart design helps these tractors turn as tight as anything on the market. Chassis design is such that the tractor handles well on the road, and has perfect weight distribution for excellent traction yet minimal soil impact in the field in all applications.
Massey Ferguson 5S
A favourite with livestock farmers all over the world. This agile and nimble tractor offers best in-class visibility combined with excellent manoeuvrability thanks to its tight 4m turning radius. Developed to tackle all challenges making it a very popular model for farmers of all enterprises and contractors. With several horsepower models available this tractor can complete all tasks on a busy farm with ease.
The MF 5S has a four cylinder engine with all models delivering more power with reduced fuel consumption. It can be purchased with a DYNA-4 or DYNA-6 transmission. Proven transmissions that help cut fuel consumption and increase driving comfort. Its narrow steeped nosed bonnet makes it the best loader partner Massey Ferguson can offer. Narrow sheds and feed passages are not an issue thanks to its brilliant manoeuvrability. The overall height of the tractor is short making it even easier to gain access to low or old sheds. A choice of three hydraulic systems providing exceptional pressure, flow and response enhances its reputation as the best loader partner. The ISOBUS compatible Datatronic 5 terminal is available with the MF5S.  With its new design and easy to use intuitive icons, the 9in touch-screen monitor displays key machine operating information and records as well as providing memory functions.